Govilon Heritage
Our Logo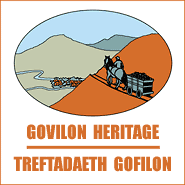 Our distinctive Logo has a story of its own.
Govilon School was given a challenge: "Design a Logo or Govilon Heritage". Many of the pupils came up with unique and beautiful designs, however every single design featured our mountains: the Blorenge, the Skirrid and the Sugar Loaf. Most also featured the historic old Tram Roads, as well as the canal – both very important in our village history
Artists Chris Lane and Frances Baines then had the task of rolling all the designs into one.
The Blorenge, Sugar Loaf and Skirrid had to be there, as did the Hill's Tramroad – leading us homewards…
Many, many thanks to everyone whose ideas went into the making of our new logo.
Click here for a look at some of the designs submitted to us
Other features of our logo:
We are on the edge of the Blaenavon World Heritage Site and Govilon Heritage is in partnership with BWHS. It is thus with pride that we are able to use the distinctive colours and font designs of the BWHS in our logo and on our website. Govilon Heritage will continue to develop this theme: although Blaenavon and Govilon are distinct communities, we are in many ways inseparable in our shared past and our combined heritage.